If you are an E1 resident looking for some Shoreditch storage solutions then come to us
Space comes at a premium here in London. The concentration of people is high, meaning living quarters are often smaller than in other parts of the county. This isn't usually a problem on a day-to-day basis, but sometimes that flat can start to feel a little over crowded.
If you miss the days of being able to see your floor for all of your belongings then why not give Removals Shoreditch a call on 020 8610 9305 to find out how we can help. Our various N1 storage units come at a competitive price, and the best thing about them is that they are just down the road right here in Shoreditch.
There are two things that put most people off when thinking about their very own storage unit: price and location. Price is an obvious one, but if you need to store a lot of items then an out-of-town warehouse if often your only option. If you need to access your belongings regularly this can mean full days driving out of the city and back in again just to drop off and pick up some boxes.
Both those considerations aren't a problem with this E1 storage service Shoreditch. All of our units are based in and around Shoreditch, so there is no horror at the thought of a Saturday given up simply getting to and from it. When it comes to price, we are extremely competitive, and offer a range of benefits to those choosing to use us for all their N1 storage requirements.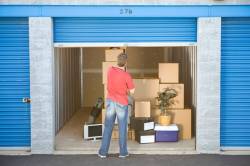 Storage units come in all shapes and sizes, and it is difficult to know just how much space one needs. There are a number of things to consider, one of which is the regularity with which you need access. If you are planning on going to and from your storage unit on a fortnightly basis, moving a couple of boxes here and there then you may need a slightly larger unit than if you were simply going to pile your belongings in, lock the door and forget about it. You see if you are going to be entering regularly you will need to find things quickly and easily, meaning you may need to fit in walkways, shelving and other organisational items to give you quick access to each and every item in the unit. This will mean slightly more space is required than if you were going to stack your items snugly into a unit.
When you call 020 8610 9305 for a free quote our customer service team will do their best to extract all of this information from you. Access requirements, volume and type of item sand length of hire will all need to be taken into account when recommending a unit size and providing you with a quote.
We do provide a discount for long-term bookings so if you are going travelling for a year or a student going home for the summer then this could be an ideal service. As an E1 removals company we also offer our other services at a competitive rate, including van hire and other removals services. We can even provide you with boxes and packing essentials to make your life just that little bit easier.
So if you are thinking about a storage unit Shoreditch, then give Removals Shoreditch a call today on 020 8610 9305. Our conveniently located units have 24/7 access and are well secured, giving you peace of mind that your belonging are safe in our hands. Give us a call today and find out just how affordable de-cluttering your home could be.